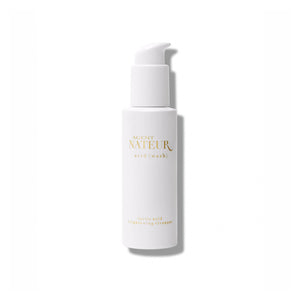 Reveal a radiant glow with acid (wash), a gentle exfoliant formulated to revive all skin types without irritation. This daily cleanser is infused with premium organic ingredients that brighten dull skin, refine texture, and reduce the appearance of imperfections. Our unique formula contains a lavender flower water base to soothe inflammation and leave skin silky, supple, and youthful.
Skin Concerns:
dull, uneven skin tone
fine lines and wrinkles
redness and inflammation
impurities and persistent acne
loss of skin volume and elasticity
dryness and irritation
MAIN INGREDIENTS

Lavender flower water contains anti-inflammatory and antiseptic properties that transform the skin. It absorbs easily and is known to reduce the appearance of irritation by calming redness and minimizing enlarged pores.
Aloe leaf is rich in vitamins, minerals, amino acids, and antioxidants known to alleviate skin conditions. Its hydrating qualities plump the skin and moisturize dry cells, diminishing the appearance of blemishes and residual acne scars.
Peony root extract offers antioxidant benefits that protect the skin against premature aging. This nourishing botanical brightens skin tone, increases firmness, and alleviates sensitivity.
Lactic acid is a gentle exfoliant that dissolves dead skin cells and other impurities without irritation. This natural acid promotes cell renewal, revealing younger, brighter, firmer, and more hydrated skin.
*Agent Nateur products are Ecocert organic certified and compatible with even the most sensitive skin.