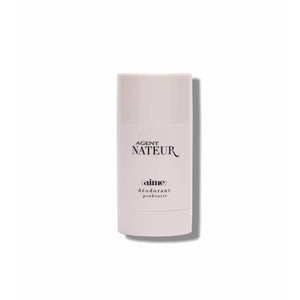 All natural, aluminum-free, rejuvenating. Created in collaboration with French aime skincare founder, Mathilde Lacombe, this gentle deodorant helps maintain skin's natural bacterial balance to prevent odor. Our nourishing oil, butter, and beeswax base is complemented by an exotic infusion of grapefruit, jasmine, and neroli oils, inspired by the French Riviera.
MAIN INGREDIENTS
Coconut oil 

is a nourishing oil that contains a unique combination of fatty acids recognized for their health benefits. About 50% of these fatty acids are lauric acid, known to soothe dryness and restore the skin's natural bacterial balance to reduce odor.
Avocado butter 

is produced from the flesh of the avocado fruit and offers nature's purest vitamins, minerals, and fatty acids. This rich balm melts upon contact with the skin, leaving a hydrating layer with a velvety finish.
Saccharomyces ferment 

is a natural deodorizer containing live enzymes that protect against odor-causing compounds. It's rich in minerals, amino acids, and vitamins that hydrate and brighten skin's appearance.
Lactobacillus acidophilus 

is a beneficial bacteria found in the body. These healthy microbes produce lactic acid and prevent the overgrowth of pathogens that cause odor.
*Agent Nateur products are Ecocert organic certified and compatible with even the most sensitive skin.