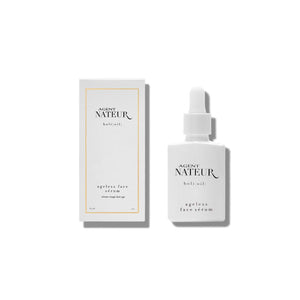 Fast absorbing and intensely hydrating, this unisex face oil blends Bulgarian rose, calcium, and organic oryza sativa. The non-toxic formula evens out skin tone and minimizes redness, wrinkles, hyperpigmentation, and dark spots. Plus, we've been told it significantly helps diminish the appearance of scars.

MAIN INGREDIENTS

Wildcrafted Bulgarian rose refines and soothes the complexion and acts as a catalyst for delivering the additional ingredients deeper into the skin.
Calcium boosts elasticity leading to a smoother, tighter, and firmer complexion.
Organic oryza sativa contains more than 100 antioxidants and helps to fight free radicals.
Organic rosehip oil is high in vitamins A and C and helps diminish the appearance of dark spots, scars, wrinkles, and fine lines.
Organic helichrysum helps decrease rosacea and scars and brightens and soothes skin.
*Agent Nateur products are created with non-gmo, food-grade ingredients for even the most sensitive skin.