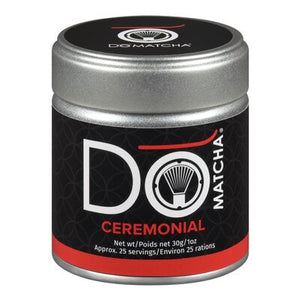 Paying homage to the traditional tea ceremonies of Japan, only the finest, youngest tea leaves are selected for DōMatcha® Ceremonial
Made from young, de-veined and de-stemmed shade-grown tencha tea leaves
This matcha has a high nutritional value, including the unique properties of L-theanine and catechins, as well as a sweet, clean flavour
Certified Kosher
Certified Organic in Canada
Certified Organic in the USA
Certified Organic in Japan
Certified Organic Internationally
Ideal to enjoy as a traditional whisked matcha.
DōMatcha®'s wide range of organic matcha tea powder are made in harmony with the traditional practices of Japanese farmers and tea producers; cultivated, harvested, and processed carefully every step of the way to product the best Japanese organic matcha possible. Organic tea leaves for our matcha are grown in the best organic matcha region of Kagoshima, Japan, and our traditional producer is located in Uji, Kyoto.
DōMatcha®'s organic matcha tea has the brand's signature sweet flavour, high quality, and bright green hue accompanied by internationally certified Organic designation. As always, the matcha is made from 100% authentically Japanese powdered tea leaves, with no fillers or sweeteners added. Every batch is tested for chemical residue to ensure its safety. Lead content is undetectable, which means it's at most 0.4 parts per million, which is the threshold for lab detectability.  DōMatcha® attributes this insignificant amount to the relatively pristine growing region of Japan, as all of their matcha is sourced directly from Japan, never from other tea-producing regions such as China or India which have more environmental pollution.