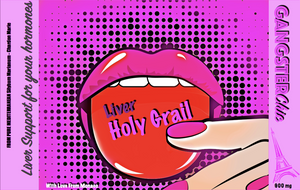 PUREST & MOST POTENT CHARDON MARIE FOR LIVER SUPPORT from Organic Crops Grown, Harvested and Prepared in FRANCE . 100% pure CHARDON MARIE PLANT SYLIBUM MARIANUM Sylimarine (whole including 3 flavonoids contained in the plant & 100% silybin from the plant).
All natural vegetal capsules. 900 mg 120 capsules
CHARDON MARIE SYLIBUM (known on the mainstream market as Milk Thistle) is one of the best liver cleansing herbs. Improving  your liver's health, and getting rid of inflammation in your liver is vital for hormone balance. Many women have an excess of estrogen and a deficiency of progesterone due to poor liver health and inflammation rooted in the liver. 
The plant has been used in French Medicine for more than 2,000 years for a variety of conditions. Thanks to a substance called silymarin found in its seeds,  LIVER HOLY GRAIL is said to have lot of benefits for liver health, possible anti-cancer effects, hormone health. 
For us, the focus on the LIVER is because improving some  aspects of liver function even  for those of us   without diagnosed liver issues, is that the silymarin in CHARDON MARIE is an antioxidant. It improves the balance of free radicals and antioxidants in your body, which helps reduce oxidative stress. Oxidative stress is tied to inflammation and linked to a number of diseases, from cardiovascular conditions to Parkinson's and most importantly HORMONE METABOLISATION by the liver.  It's one of the liver's jobs to process and eliminate excess sex hormones (estrogen, progesterone, and testosterone), hormones made by the adrenal glands, and thyroid hormones. LIVER HOLY GRAIL can improve the liver function and the way it metabolizes hormones, so as to balance your hormones again, and get rid of hormonal inflammation. 
Our capsules respect our planet and your gut health, as well as our packaging which we have developed to be ECO-RESPONSIBLE PACKAGING that is more respectful of the environment, as well as non-endocrine disrupting ( from the ink and glue used for labelling as well as the High Clinical Grade reusable PET bottle made in Austria).
Our formula is based on a rigorous selection of the purest most potent botanics making our CHARDON MARIE one of the highest dosage of the healing plant available on the market.

It is vegan, GMO-free, gluten-free, stearate-free, starch-free, lactose-free and excipient-free.

NOT ALL CHARDON MARIE PREPARATIONS ARE CREATED EQUAL: LIVER HOLY GRAIL IS THE PUREST CLEANEST MOST POTENT FORM on the MARKET.
INSTRUCTIONS: Take 3 capsules per day with a large glass of water -- 30 mins before meals is best. Our potent and pure formula can be taken for a period of 1 to 3 months. You can halt taking it after one month if you are feeling optimal results with your health.

FORMULATED & MADE IN FRANCE by Certified Herbalists
Harvested, Grown in France, our Chardon Marie Liver Holy Grail is prepared by our Certified herbalists in Grasse France. Our herbalists rely on a committee of 5 recognized experts & physiologists in the fields of medicine, research and traceability. Our CHARDON MARIE ISO 22000, HACCP and BPF certified.
Why LIVER HOLY GRAIL Should Be a Part of Your Natural HORMONAL HEALTH PLAN

+FLUSHES EXCESS HORMONES FROM THE LIVER

+Stimulates liver regeneration and cleansing.
+Flushes toxins from the liver.
+Heals the liver from toxin damage from alcohol, car exhaust, chemical pollution, etc.
+A clean liver aids in hormonal balance.
+Protects the liver from future toxin damage.
+Some research shows it is helpful for people with insulin resistance, including PCOS, hyperhtyroidism and type 2 diabetes.

+THYROID HEALTH

Liver plays an important role in converting T4 to T3 and with the transport of Thyroid Hormone. Do check with your doctor if you are taking thyroid medication.

+ HELPS WEIGHT LOSS & METABOLIC FUNCTION

silymarin, the standardized extract in CHARDON MARIE seeds (contained in LIVER HOLY GRAIL) , helps treat metabolic dysfunction associated with hormonal imbalance -induced weight gain & obesity. Medical studies have found that silymarin can aid weightloss by treating high cholesterol, fatty liver and insulin resistance.

+AUTO-IMMUNE DISEASES, INFLAMMATION & HASHIMOTO

An Article published May 2017 on THYROID, in The Official Journal of the American Thyroid Association found that protecting the thyroid starts with preventing hydrogen peroxide buildup, associated with HASHIMOTO.

You naturally make catalase in your liver (and that's the #1 enzyme that clears hydrogen peroxide) so liver health is important. Minimize liver-damaging substances where possible. As an example, alcohol can harm the liver, so reduce alcohol consumption. CHARDON MARIE is a natural herb that can revitalize the liver.

Our bodies are all different and we may have sensitivities to supplements too so speak to your doctor always about new supplements and start new supplements one at a time to watch yourself for adverse reaction

+PRE-MENOPAUSE & MENOPAUSE

When a woman's estrogen levels are low (like during menopause and postmenopause), milk thistle may have a slight estrogenic effect. Some women find this helpful for symptoms like hot flashes and insomnia. But along with reducing menopause symptoms, milk thistle is important because it improves bone health. It prevents bone loss and even affects bone growth, speeding up healing after a fracture. It also lowers cholesterol. LDL cholesterol and triglycerides naturally increase during this of life time and can increase risk for heart disease.
CHARDON MARIE Sylibum Marianum is considered safe for most people. However, pregnant or breastfeeding women, people with liver disease and other liver related conditions , especially if taking certain medications must consult with their doctor before taking it. Patients with Liver disease should not use CHARBON MARIE LIVER HOLY GRAIL without being under medical supervision . LIVER HOLY GRAIL is not a medical treatment, and does not substitute medical treatment.
Special Precautions & Warnings:
Pregnancy and breast-feeding: There isn't enough reliable information to know if milk thistle is safe to use when pregnant or breast-feeding. Stay on the safe side and avoid use.

Allergy to ragweed and related plants: CHARDON MARIE may cause an allergic reaction in people who are sensitive to the Asteraceae/Compositae plant family. Members of this family include ragweed, chrysanthemums, marigolds, daisies, and many others. If you have allergies, be sure to check with your healthcare provider before taking LIVER HOLY GRAIL.

Hormone-sensitive conditions such as breast cancer, uterine cancer, ovarian cancer, endometriosis, or uterine fibroids. means the body doesn't produce enough or can't use thyroid hormones effectively. Low thyroid levels slow body processes down. Because milk thistle affects how T3 gets transported to cells, it is best to speak with your doctor or medical naturopath before combining LIVER HOLY GRAIL* with your hypothyroid treatment ( It is less likely to be counter-indicated if you are middle range, or have hyperthyroidism). Either way if you are currently being treated and taking medication ask your doctor about supplementing with LHG*

Seek your doctor's advice before taking if you are taking Cholesterol-lowering medications Allergy medications Blood-thinning medication

You can however use FEMININE HOLY GRAIL & KIDNEY HOLY GRAIL to improve these conditions.