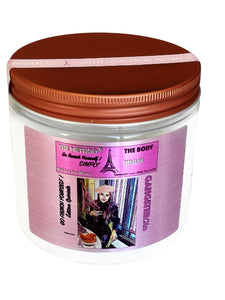 Orders are available for shipping across Canada and free pick up at the studio in Aurora and in Toronto near Danforth Ave and Greenwood Ave. 
Shipping rates are calculated at check out by Canada Post.

Simply Inulin by Gangster Chic Brand is the cleanest and purest inulin powder on the market made from Jerusalem Artichoke Root sourced from Europe.
Excellent source of fibre
NO CALORIES
Appetite control
PROMOTES WEIGHTLOSS
PREBIOTIC Improves gut health
Free of artificial colors, flavor
Substitutes sugar & flour in drinks and baked goods
Reduces bloating significantly
Reduces water retention
Curbs sweet tooth cravings
Suitable & Recommended for IBS, CHRONE Disease, Eczema & other Skin to Gut Issues.
Free of Preservatives
Suitable for diabetes, cholesterol
If you have FODMAP it is recommended to go on a LOW FODMAP diet for 3 weeks prior to taking inulin

SIMPLY INULIN POWDER from Jerusalem Artichoke Root is the purest on the Market due to its innovative milling process for HIGHER POTENCY & ABSORPTION.
Manufactured in Germany from EU ORGANIC Crops.
SIMPLY INULIN POWDER from Jerusalem Artichoke Root is the purest on the Market (100% INULIN) & its INNOVATIVE milling process makes for HIGHER POTENCY & ABSORPTION
KEEP IN MIND that not all Inulin's are created equal. Many Inulin's (especially on the American Market) are not regulated by any Agencies and often deem their Inulin pure when in fact hidden gums and thickeners are not disclosed yet contained. They can be manufactured in China, that too is often not disclosed.

Simply Inulin is made in EUROPE from EUROPE grown crops.

Our founder, Lisa Bender, also discovered very quickly that not all inulin powders are the same. So many are made with chemical ridden inferior ingredients. Lisa has tested and continues to test out "comparable" brands but products from China, the US and Canada fall short. Not only has she discovered that Simply Inulin powder was the best, she started to balance out her hormones naturally and further improve her digestion with daily use.
The jars are manufactured in Austria from non- endocrine disrupting PET (medical grade) Material.  Containers are washable and reusable.

1 tsp of Simply Inulin = 4.5 grams of fiber