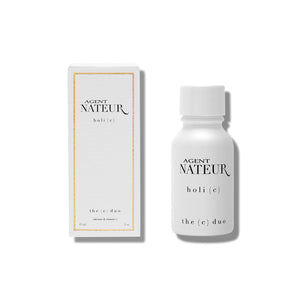 Holi C is a two-in-one vitamin C and calcium infused powder designed to prevent both aging and acne. This topical powder is best mixed with distilled water to help brighten, tighten, even out skin tone, fight free radicals, and minimize the appearance of scars, acne, and rosacea.
Ingredient List:

French patented calcium (derived from vegetables) is backed by science and clinical trials. It stimulates your own hyaluronic acid and elastin, contributing to increased skin elasticity and a decrease in skin sagging.
ECOCERT approved, non-GMO sodium ascorbyl phosphate is a potent antioxidant that can neutralize free radicals. It also boosts collagen production, reduces dark spots, and helps to help blemishes.

*Agent Nateur products are created with non-gmo, food-grade ingredients for even the most sensitive skin.