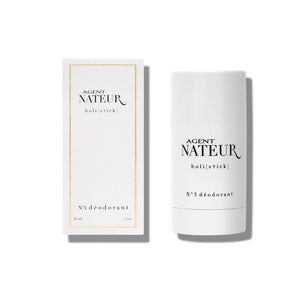 Holi Stick is an aluminium free deodorant featuring the scents of lavender, honey and eucalyptus. A little goes a long way, and Holi Stick will keep you smelling fresh all day. 
Ingredient List:
Coconut oil reduces inflammation, keeping skin moisturized. The medium-chain fatty acids found in coconut oil also possess antimicrobial properties that can help protect the skin from harmful bacteria.
Avocado butter is rich in vital nutrients, vitamins, minerals, and antioxidants. It also protects, moisturizes, and nourishes skin.
Castor oil is antimicrobial and protects the skin from bacterial infections.

*Agent Nateur products are created with non-gmo, food-grade ingredients for even the most sensitive skin.