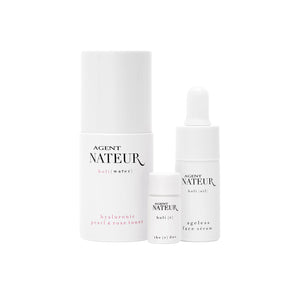 This three-piece travel size trio features three best selling products from Agent Nateur. Holi Water is a hydrating toner that exfoliates, plumps, tightens, and brightens the skin. Holi C is a powder-based serum that helps brighten, tighten, even out skin tone, and minimizes the appearance of scars, acne, and rosacea. Holi Oil evens out skin tone and minimizes redness, wrinkles, and hyperpigmentation.
Ingredient List:
Holi Water blends wildcrafted Bulgarian rose water, lavender water, hyaluronic acid, pitaya, pearl, and cucumber.
Holi C blends French patented calcium derived from vegetables and ECOCERT approved, non-GMO sodium ascorbyl phosphate.
Holi Oil blends wildcrafted Bulgarian rose, calcium, organic oryza sativa, organic rosehip oil, and organic helichrysum.
*Agent Nateur products are created with non-gmo, food-grade ingredients for even the most sensitive skin.