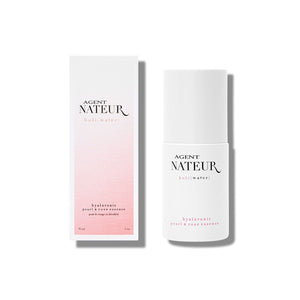 Holi Water is an ultra-moisturizing toner that exfoliates, plumps, tightens, brightens, firms, and imparts a radiant glow. Ingredients from Europe and the middle east were picked specifically to cleanse, hydrate, and soften skin. Travel size 30 ml
Ingredient List:
Wildcrafted Bulgarian rose water reduces the appearance of puffiness, redness, and acne. It also aids in removing oil and dirt to unclog the pores.
Lavender water calms and soothes the complexion.
High molecular weight hyaluronic acid plumps skin to smooth fine lines and wrinkles. HA also, firms, tones, restores, and strengthens the skin.
Pitaya preserves the appearance of ageless skin. It tightens, hydrates, and exfoliates for a brighter and more luminous complexion. An added benefit: it helps minimize acne.
Pearl promotes healthy collagen production, which results in plump, glowing skin.
Cucumber nourishes, moisturizes, tones, and soothes dull skin.
*Agent Nateur products are created with non-gmo, food-grade ingredients for even the most sensitive skin
.